Bread of Life Food Pantry
Free groceries and staple supplies to needy families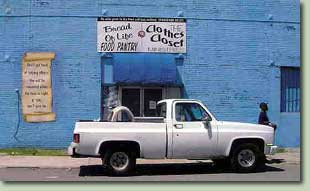 The Bread Of Life Food Pantry and Clothes Closet was established to help meet the needs of the hurting and hungry in Birmingham and shares the truth of God's unconditional love with all who will listen. By God's grace, we have fed and clothed thousands of KIDS and their families along with many homeless and lower income individuals. Each week we have an evangelistic service which is required for all who receive clothes and food. Many souls have been touched by the love of God and the message of salvation expressed during these services. The "Good News" is always shared and an invitation is always extended. Will you help us? Only eternity will tell how many souls and spirits have been blessed by your willingness to care and share with us.
WAYS YOU CAN HELP
Collect non perishable food items from your pantry, neighbors and friends an drop them off at the Food Pantry (538 7th Street North and Graymont Avenue)
Give! Any amount would be greatly appreciated! We can purchase food items for the United Way Food Bank for eleven cents per pound. Each month we spend around $450.00 to feed between 300 and 500 people. Perhaps you or your group will sponsor a month!
Volunteer your time to help sort, bag, an distrbute food to the people who depend on us.
Pray for us!!!!!!!!