Minister Daniel Cason
is an ordained minister, concert pianist and a former high school music teacher. He received his formal education at the Cleveland Music School Settlement (Rainey Institute), the renowned Cleveland Institute of Music and the University of Southern California (ISOMATA) where he studied master classes with Lee Thompson of the Julliard School of Music. Reverend Cason holds two earned music degrees (Bachelor of Arts and Masters ) from MTC School of Theology.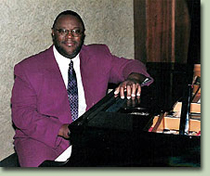 Reverend Cason has been featured musician and Clinician at the Gospel Music Workshop of America, the National Convention of Gospel Choirs and Choruses and the International Worship Congress for many years. He has also served as the conference pianist and piano instructor for the Hampton University Ministers Conference. In recent years, Reverend Cason served as Associate Professor at Lawson State Community College.
Minister Cason is in great demand for workshops and concerts. He has conducted "Church Music Workshops" and "Praise and Worship Seminars" throughout America as well as maintained his very heavy schedule as an Artist/Pianist and Workshop Clinician. Reverend Cason has ministered at many churches throughout the U.S.A. and in Russia (four times), Italy (before Pope John Paul), the United Kingdom, and Ireland (twice). His most recent international engagement (March 2002) was to Port Harcourt, Nigeria where he not only shared his musical abilities but his Biblical knowledge with over 1000 pastors in attendance.
Reverend Cason is the Founder and Director of K.I.D.S. Inc. (KIDS Christian Music Center and KIDS Community School of the Arts). He also manages Professionals For Christ Publications (BMI) with over 400 published works and several unpublished work. In addition, Cason feeds and clothes between 400 and 500 persons monthly with is Bread of Life Food Pantry.
Currently, Reverend Cason serves on the Music Ministry Staff of the 4,000 member Briarwood Presbyterian Church, Dean of Music for More Than Conquerors School of Theology and Founding Pastor of Abundant Life Christian Tabernacle.
Daniel and his wife, Gwendolyn, reside in Birmingham, Alabama and together they have two wonderful children, Joy Krystal and Daniel Mario-III.